Did You Know: Most Manufacturers Don't Know
Who actually sews their stuff.
Think about the "Farm To Table" movement, now restaurants are proud to say they KNOW the farmers who produce their produce/meats, they have a relationship with them.
I hate to be the bearer of bad news/reality, but not only do companies not know who sews their stuff, they exploit (through child labor overseas, horrid working conditions) the very people who make the product. Large companies can go overseas and pay very low wages, not paying workers for their skills or their vast experience to enhance bottom-lines…all this sacrifices what workers are really worth. This is how mass produced products can be made and sold cheaply.
At the Kandu Sport Company, where all the SportKini's are made, it is super important to us to know who sews our stuff, just like restaurants getting to know their farmers, it builds community. It gives our own countrymen employment.
The women and men who sew our SportKini tops and bottoms are right here in the Los Angeles area, they are experts, they take pride in their work. They have a high standard just like we do.
What is another unfortunate truth about the apparel industry is the treatment of the sewers, pattern makers, seamstresses, cutters and other persons involved in the marking of garments. …I have seen with my own eyes company representatives come into the manufacturing facilities treating workers like crap. …what is kind of uncouth is that the very person making ridiculous demands does not know how to sew anything themselves, they have no reference as tohow difficult sewing is and how skilled you have to be to do it well. 
We have partnered up with the most phenomenal sewers whom we are proud to work alongside.
We marvel at their skill, talent and years of excellence which brings a multitude of wisdom and supreme craftsmanship.
Just wanted you to know, just like farm to table, we know who we are working with, and we are honored.
This is a BIG BENEFIT of being a small company.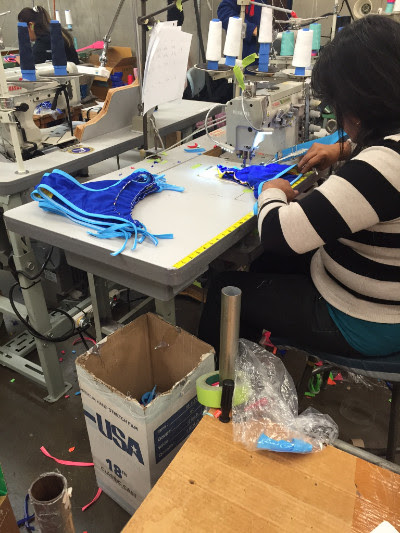 We pass this onto to you, you who wear our product, you can know that they are made with integrity and every person in the link to make that swimsuit is accounted for and respected. It takes a community of people in this field to create one GOOD swimsuit at a time.
Again, we are proud to have MADE IN THE USA on our product but even more proud to know each person each step of the way.
Thank you for investing in our products and getting to know our company.
Thank you for sharing us, passing us onto your friends and wearing our products over and over and over again.
---